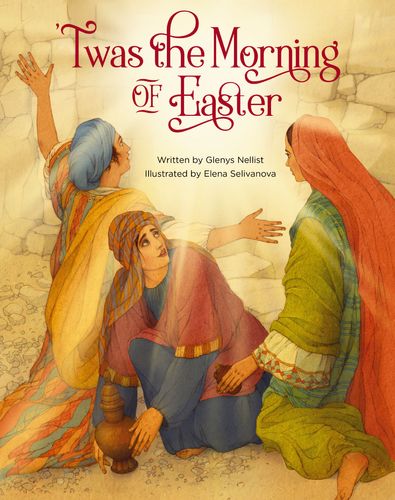 'Twas the Morning of Easter
Release date: Feb 02, 2021
ISBN: 9780310769064
Format: Hardcover
Celebrate the story of Jesus' resurrection in a fresh way as beloved, bestselling author Glenys Nellistshares the Bible stories of the season in a familiar rhythm and rhyme that children will love, following the classic style of the iconic 'Twas the Night Before Christmas.
Join Glenys, beloved author of the bestselling 'Twas the Evening of Christmas, and 'Twas the Season of Advent, as she reveals the joy and beauty of the resurrection in a unique, inspiring way.. This gorgeous picture book tells the true, biblical story of Easter through read-aloud rhymes and engaging illustrations by Elena Selivanova. With an eye-catching cover, this book is perfect for any Easter basket and sure to be a treasured Easter tradition for years to come.
'Twas the morning of Easter, before the sun rose,
Two guards on a hillside were trying to doze.
You see Jesus had died, only three days before,
A huge stone had been placed, to sealthe cave door.
'Twas the Morning of Easter:
Is written by Glenys Nellist, author of the bestselling'Twas series,

The Wonder That Is You

, and the Snuggle Time and Love Letters from God series

Is told in the style of Clement C. Moore's iconic poem––

'Twas the Night before Christmas

Features a familiar rhythm and rhyme that children ages 4-8 will love

Retells the story of the resurrection of Jesus in a fresh way

Gives adults the perfect way to share the powerful story of Easter with little ones
Download your free companion Activity and Resource Pack to accompany this book, which includes an Easter pageant and an intergenerational StoryWalk event, at GlenysNellist.com
Look for additional inspirational children's picture books from Glenys:
Baptized in the Water

'Twas the Season of Advent

'Twas the Evening of Christmas

Snuggle Time series

Love Letters from God series