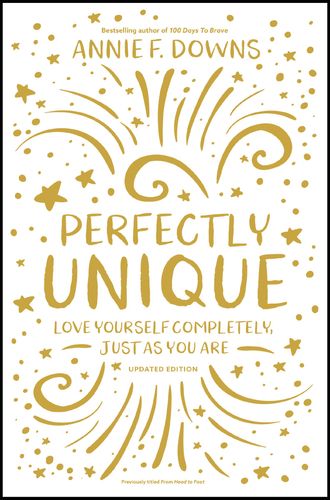 Perfectly Unique
Love Yourself Completely, Just As You Are
Release date: Oct 01, 2019
ISBN: 9780310768623
Format: Softcover
In Perfectly Unique, bestselling author and sought-after speaker Annie F. Downs shares her humor and her wisdom to help pre-teen and young adult women understand how, from head to foot, the way you view your body is directly connected to how you serve God.
From the thoughts you think to the steps you take, every part of you is part of your spiritual journey.
Your body is a sacred treasure, a worshipful instrument, a unique masterpiece! But sometimes it feels confusing, awkward, or flawed. The truth is you and your body, all of it, are important and beautiful, designed especially by God with a specific plan and purpose! That's a pretty big deal.
Whether you are looking for new ways to love God more fully and understand his love and purpose for you or trying to figure out why God made you as you are, Perfectly Unique will take you on a thoughtful, funny, and spirit-filled exploration of the way you were designed and will help you better honor the creator by learning to value his perfectly unique creation—you!