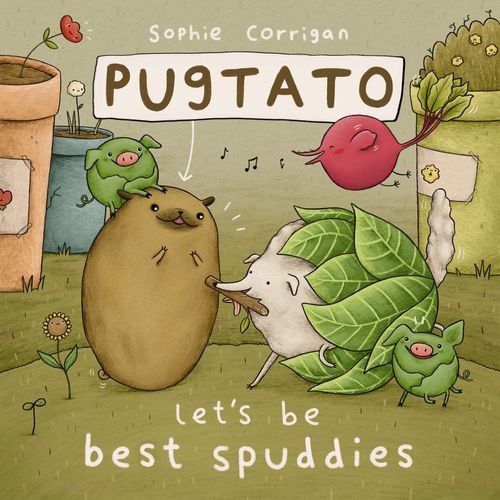 Pugtato, Let's Be Best Spuddies
Release date: Mar 30, 2021
ISBN: 9780310767770
Format: Board Book
What do you get when you cross imaginative and loveable characters, enchanting and inspiring illustrations and a giggle-inducing story? Pugtato, a simple, good spud and a hilarious mashup of pet and vegetable characters by the inimitable illustrator Sophie Corrigan! Spend the day with Pugtato and find out what it means to be a best spuddy!
Pugtato and his very best spuddies discover that a best spuddy likes to play and listen, share, and give a helping hand.
Pugtato, Let's Be Best Spuddies delivers:
A delightful, giggle-inducing, rhyming, read-aloud story perfect for kids ages 4-8
Imaginative, silly pet and vegetable mashups such as Pugtato, Tomatoad, Carrat, Cowbbage, Croccoli, Unicorn on the Cob and more!
A beautiful, eye-catching cover rich with color and embossed texture
Young children will learn invaluable lessons from Pugtato about:
Friendship
Sharing
Helping others
Creativity
You'll also want to follow Pugtato's adventures in Pugtato Babysits the Snouts, Pugtato Finds a Thing, and Pugtato and Friends Audio Collection: 3 Books in 1.