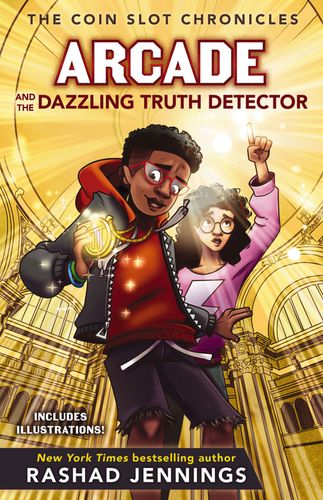 Arcade and the Dazzling Truth Detector
Release date: Sep 01, 2020
ISBN: 9780310767442
Format: Hardcover
All the questions about the mysterious and powerful Triple T Token come to a head as Arcade seeks out the truth behind this magical object once and for all.? Arcade and the Dazzling Truth Detector is the fourth and final book in the humorous and imaginative Coin Slot Chronicles series by New York Times bestselling author, former NFL running back, and?Dancing with the Stars?champion Rashad Jennings.
What does the last T on the Triple T Token stand for? Where did the token come from? What did Arcade's mom do with it when she had it? And why does Arcade have it now? Arcade and Zoe Livingston have been on a quest for truth ever since the mysterious lady gave Arcade the token, said, "Happy Travels," then vanished. Now, Arcade Livingston has just one wish on his twelfth birthday: to experience the?ests?of life.
From the highest, lowest, deepest, coldest, and hottest places on Earth; to some of the greatest, most influential moments in history—Arcade gets his wish and much more than he could ever dream as the Triple T Token takes him and Zoe back in time and to the top (and bottom!) of the world. It's a whirlwind journey of self-discovery in some of the most exciting and unusual places on the planet.
Written and designed for reluctant readers, with shorter chapters and meaningful illustrations throughout the book.?Arcade and the Dazzling Truth Detector teaches children ages 8 and up:
How to create goals and the importance of dreaming big

The importance of generosity, compassion, patience, and forgiveness

The journey of self discovery and never giving up
If you enjoy Arcade and the Dazzling Truth Detector, check out the rest of the series:?
Arcade and the Triple T Token (Book 1)
?Arcade and the Golden Travel Guide (Book 2)
?Arcade and the Fiery Metal Tester (Book 3)