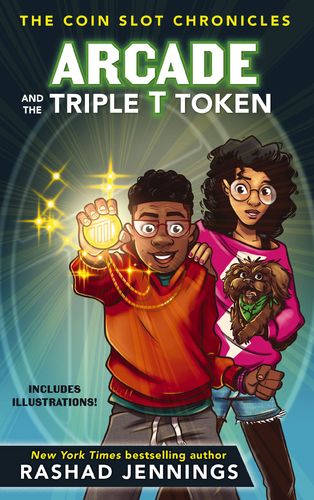 Arcade and the Triple T Token
Release date: Jan 29, 2019
ISBN: 9780310767411
Format: Hardcover
Eleven-year-old Arcade Livingston has a problem. Several, actually! The Tolley twins are making Arcade's move to a new city harder than it needs to be and bullying him into doing their homework. And then there's the magical Triple T Token that keeps whisking him away on adventures across time and space. Arcade and the Triple T Token?is the first book in the humorous and imaginative Coin Slot Chronicles series by?New York Times?bestselling author, former NFL running back, and Dancing with the Stars champion Rashad Jennings.
While at the library—Arcade's favorite place to be—a mysterious old woman gives him a golden arcade token that grants him a unique gift. A gift that allows him to time travel between different places, including his own future. From sitting in the dugout with Babe Ruth to hanging on to the back of a bucking bull to performing life-saving surgery on a dog, Arcade has no shortage of adventure! Together with his older sister, Zoe, Arcade explores life's biggest thrills and challenges, and the two also have a big mystery to solve. Who is the rightful owner of the incredible Triple T Token that leads to such astounding adventures?
Written and designed for reluctant readers, with shorter chapters and illustrations throughout the book, Arcade and the Triple T Token teaches children ages 8 and up:
How to deal with tough questions of "What do you want to be when you grow up?" and "Where will you go next?"

How to accept oneself while facing tween/teen issues, peer pressure, and bullying

About fitness, faith, and friendship
If you enjoy?Arcade and the Triple T Token, check out the rest of the series:?
Arcade and the Golden Travel Guide (Book 2)
Arcade and the Fiery Metal Tester

(Book 3)

Arcade and the Dazzling Truth Detector

(Book 4)