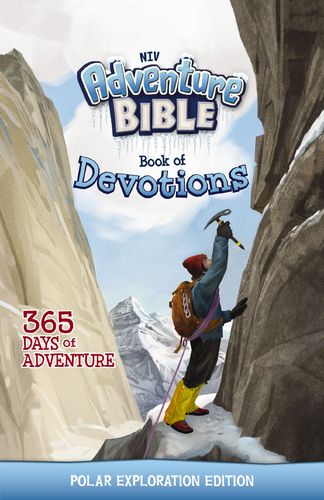 NIV Adventure Bible Book of Devotions: Polar Exploration Edition
365 Days of Adventure
Release date: Oct 02, 2018
ISBN: 9780310765004
Format: Hardcover
Grab your parka and compass and get ready for a thrilling trek through God's Word! This 365-day devotional is filled with exciting daily devotions inspires readers to read about, write about, and, most importantly, live out their faith.
The Adventure Bible is #1, recommended by more Christian schools and churches than any other Bible for kids. The illustrated, full-color NIV Adventure Bible Book of Devotions: Polar Exploration Edition takes kids on a thrilling, enriching quest through the Bible.
This 365-day devotional with all-new content includes topics on self-esteem, courage, friendship, and many more! Boys and girls will learn more about God and the Bible and be inspired to live a life of faith, the greatest adventure of all. A companion to the NIV Adventure Bible, Polar Exploration Edition, this devotional book is perfect for readers aged 8 to 12.
NIV Adventure Bible Book of Devotions: Polar Exploration Edition includes:
Trusted, #1 Adventure Bible brand content in a frosty new theme
Full-color images of polar animals, arctic outposts, and icy landscapes throughout
Devotional topics on self-esteem, courage, friendship, and many more
Topical and Scripture indexes
Thrilling glacial cover