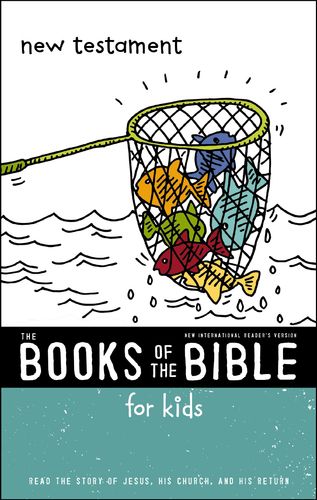 NIrV, The Books of the Bible for Kids: New Testament, Paperback
Read the Story of Jesus, His Church, and His Return
Release date: Nov 28, 2017
ISBN: 9780310761310
Format: Softcover
Volume 4 of a 4-book series of The Books of the Bible designed for kids ages 8-10.
The NIrV, The Books of the Bible for Kids, New Testament is an abridgement of the Bible that strips the Bible text of its chapter and verse numbers, headings, and special formatting so that it's easier to read and accessible to all. The translation used is the easy-to-read New International Reader's Version (NIrV) ideal for early readers of the Bible.
Each of the 4 volumes in this series is broken down into an 8-week reading plan and includes a daily reading and questions for discussion perfect for classroom or small group use. With wide margins, shorter lines, a large 12-point font size, and engaging illustrations, these books are designed especially for developing readers.
In the fourth book, New Testament, kids will learn of the fulfillment of God's promise.
This volume includes Scripture portions from:
Luke-Acts
1–2 Thessalonians
1–2 Corinthians
Galatians
Romans
Colossians
Ephesians
Philemon
Philippians
1 Timothy
Titus
2 Timothy
Matthew
Hebrews
James
Mark
1–2 Peter
Jude
John
1–3 John
Revelation
The other 3 volumes in this series are:
NIrV, The Books of the Bible: Covenant History: Discover the Beginnings of God's People
NIrV, The Books of the Bible: The Prophets: Listen to God's Messenger's Tell about Hope and Truth
NIrV, The Books of the Bible: The Writings: Learn from Stories, Poetry, and Songs