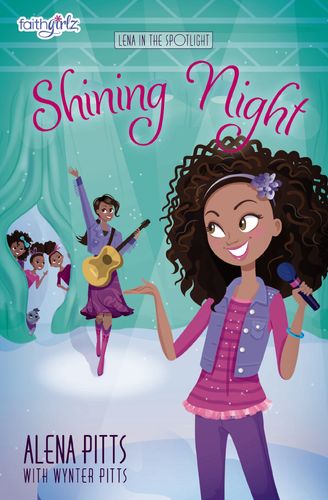 Shining Night
Release date: May 01, 2018
ISBN: 9780310760610
Format: Softcover
Shining Night is book three in the Faithgirlz series Lena in the Spotlight, written by Alena Pitts, star of The War Room and tween blogger of For Girls Like You, and co-written with her mother, editor and author Wynter Pitts. In this fiction story that will appeal to young girls who have big dreams, Lena's story continues as she must determine how to best use her fame for the greater good.
Shining Night:
Is perfect for young fans of realistic fiction
Is for readers ages 8-12
Is suited for summer reading, as a birthday or Christmas gift, or as inspirational reading
Contains eight original illustrations
In Shining Night, Lena's overnight fame as an actress continues to pull her into the spotlight, while teaching her what it means to shine for God. Now she's faced with her biggest challenge yet. When Lena's favorite music artist, Mallory Winston, sends her a gift box filled with photos and memories of their time on tour together, Lena finds out that the hospital they visited is closing and many of the children and friends she met there may not receive the ongoing care they need. How will Lena and her besties help the children at the hospital face their challenges?
If you enjoy Shining Night, check out the first two books in the Lena in the Spotlight series:
Hello Stars
Day Dreams and Movie Screens