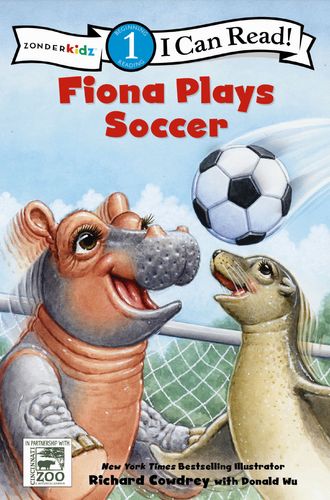 Fiona Plays Soccer
Level 1
Release date: Jan 10, 2023
ISBN: 9780310758921
Join Fiona the hippo, the adorable internet sensation from the Cincinnati Zoo and Botanical Garden, as she and her friends find a soccer ball and decide to play a game. But what happens when the ball gets stuck up a tree and lost in a pond?
Young readers will enjoy learning more about Fiona and her friends in this Level One I Can Read book about the little hippo that has captured hearts around the world with her inspiring story and plucky personality.
Fiona Plays Soccer is:
An endearing animal book that's a perfect gift from parents and grandparents
A sweet story about teamwork and playing together
A Level One I Can Read story geared for children just learning to read
Created by New York Times bestselling artist Richard Cowdrey of Fiona the Hippo; A Very Fiona Christmas; Fiona, It's Bedtime; Legend of the Candy Cane; Bad Dog, Marley; and A Very Marley Christmas fame
?Fiona Plays Soccer?is one title in the I Can Read brand that focuses on Fiona the hippo. Other titles include:?
Meet Fiona
Fiona Saves the Day
Fantastic Fiona
Fiona and the Rainy Day
Fiona's Train Ride
Fiona Goes to School
Fiona Gets the Sniffles