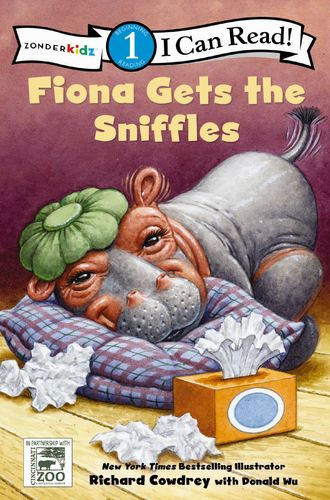 Fiona Gets the Sniffles
Level 1
Release date: Jan 10, 2023
ISBN: 9780310758044
Format: Hardcover
Join Fiona the hippo, the adorable internet sensation from the Cincinnati Zoo and Botanical Garden, as she and her friends Cheetah, Chicken, and Fox figure out how to help Mr. Elephant feel better when he has a case of the sniffles. What happens when Fiona starts sniffling too?
Young readers will enjoy learning more about Fiona and her friends in this Level One I Can Read book about the little hippo that has captured hearts around the world with her inspiring story and plucky personality.
Fiona Has the Sniffles is:
An endearing animal book that's a perfect gift from parents and grandparents
A sweet book about how we all have times when we don't feel well
A Level One I Can Read story geared for children just learning to read
Created by New York Times bestselling artist Richard Cowdrey of Fiona the Hippo; A Very Fiona Christmas; Fiona, It's Bedtime; Legend of the Candy Cane; Bad Dog, Marley; and A Very Marley Christmas fame
Fiona Gets the Sniffles?is one title in the I Can Read brand that focuses on Fiona the hippo. Other titles include:?
Meet Fiona
Fiona Saves the Day
Fantastic Fiona
Fiona and the Rainy Day
Fiona's Train Ride
Fiona Goes to School