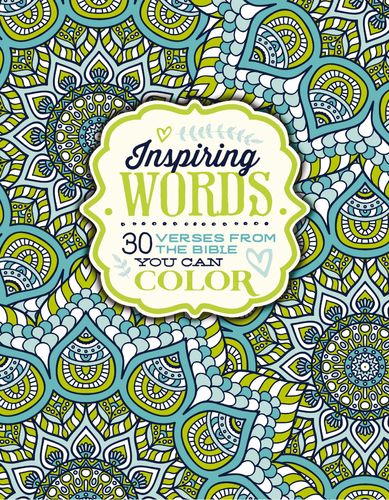 Inspiring Words Coloring Book
30 Verses from the Bible You Can Color
Release date: Nov 17, 2015
ISBN: 9780310757283
Format: Softcover
More mindfulness, less stress and anxiety. Relax and meditate on God's Word through this unique and inspiring coloring book, featuring 30 beautiful illustrations to color while you discover the calmness and peace of connecting with Scripture while exploring your creativity.
The Inspiring Words Coloring Book pairs key verses from the Bible with ready-to-color line art, each page offering an opportunity to mediate on God's Word as you take a much-needed break from the noise and stress of everyday life. This coloring book is not just for artists, it is for anybody who wants to lessen their anxiety and engage in a peaceful activity that helps them feel restored.
Inside these pages, you will find 30 unique and imaginative illustrations printed on high-quality, thick paper stock that won't bleed through. Whether you use markers, pens, watercolors, or colored pencils, when you're finished coloring, the completed page can be removed to display your work at home, in the office, or anywhere else you need daily inspiration.
The Inspiring Words Coloring Book:
Contains 30 Bible-based inspirational coloring designs to help you breathe, relax, and meditate on Scripture
Is designed with thick, non-perforated paper stock that won't bleed through from one page to the next
Focuses on key verses from the Bible, each offering an opportunity to connect with Scripture while exploring your creativity
Is a perfect addition to classrooms, Sunday school classes, at home, or at the office
Is the go-to birthday, First Communion, or graduation gift for the art lover in your life
Bible verses taken from the New International Version (NIV)