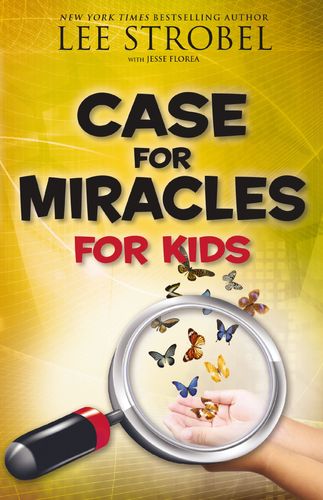 Case for Miracles for Kids
Release date: Mar 27, 2018
ISBN: 9780310748649
Format: Softcover
With clear facts, real-life stories, and answers to the questions kids six to ten ask most, this adaptation of Lee Strobel's bestselling The Case for Miracles uses kid-friendly language to explore the research, facts, and evidence behind the question of whether miracles can be believed, and if they still happen in our world today.
Whether they've grown up in the church or are encountering faith for the first time, The Case for Miracles for Kids is the perfect resource to answer the questions about faith and miracles kids 6-10 ask most. Inside, readers will discover:
An introduction to the historical evidence, expert testimonies, extensive research, and scientific proof that back up what the Bible says
Stories and experiences from real people who claim to have experienced a miracle
An exploration of why God performs miracles, why they do (and sometimes don't) happen, and what they tell us about God and his involvement in our world today
Answers for why Christians believe what they do, and why they can be confident in our beliefs
Kid-friendly examples that make the facts easy to understand
Ways to talk to other people about their faith and share what they know
The Case for Miracles for Kids:
Is a solid source of information that looks at all sides of the issue to present solid evidence behind each conclusion and fact about the Christian faith
Has illustrations and callout graphics to make the topics engaging for kids six to ten
Is an excellent resource for Sunday schools, church libraries, and homeschooling
This book can be used on its own or alongside The Case for a Creator for Kids, The Case for Christ for Kids, The Case for Faith for Kids, and The Case for Grace for Kids to help children with faith development and answer questions they wonder about most.