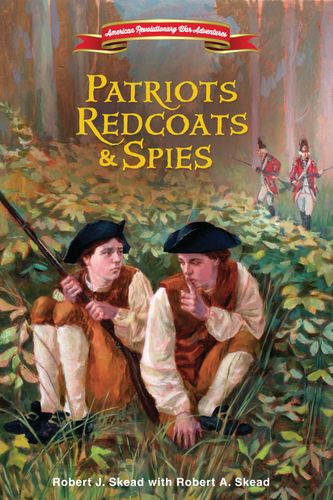 Patriots, Redcoats and Spies
Release date: Feb 03, 2015
ISBN: 9780310748410
Format: Hardcover
In book one of the American Revolutionary War Adventures historical fiction series, readers ages 8-12 can experience the Revolutionary War firsthand in this novel based on actual events. When their father is injured, twins John and Ambrose must deliver a crucial secret message to General George Washington, facing danger from both the war raging around them and a British soldier who is hot on their trail.
In addition to bringing alive America's war for independence, including information on the Culper Spy Ring that helped turn the war for the Colonies, Patriots, Redcoats, and Spies:
Teaches kids about the Revolutionary War from a kid's perspective
Is packed with historical information that is entertaining and educational
Contains discussion questions, backgrounds on the real-life historical persons featured in the book, and a glossary of key terms
Can be used alongside school curriculum and as a homeschool resource
When their Revolutionary War patriot father is shot by British soldiers while on a mission for the Continental Army, it falls to 14-year-old twins John and Ambrose to deliver the secret message their dad was carrying to General George Washington. As the boys set off from Connecticut to New Jersey to find General Washington, they discover the road to the commander-in-chief of the Continental Army is full of obstacles—including the man who shot their father, who is determined to stop the message no matter what.