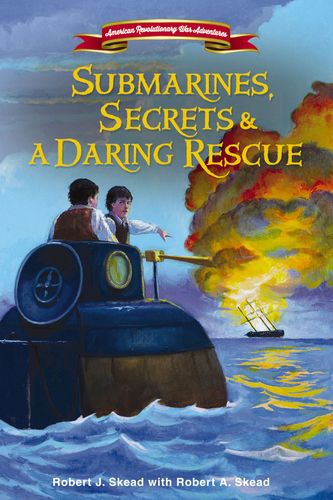 Submarines, Secrets and a Daring Rescue
Release date: Aug 04, 2015
ISBN: 9780310747475
Format: Hardcover
In book two of the American Revolutionary War Adventures historical fiction series, readers ages 8-12 can experience the Revolutionary War firsthand in this novel based on actual events. Twins John and Ambrose Clark find themselves aiding the patriots once again as they help work on a top-secret submarine that could end the war … and also look for a way to rescue their captured older brother.
In addition to bringing alive America's war for independence, including information on the first submarine built in America, Submarines, Secrets, and a Daring Rescue:
Teaches kids about the Revolutionary War from a kid's perspective
Is packed with historical information that is entertaining and educational
Contains discussion questions, backgrounds on the real-life historical persons featured in the book, historical letters, and a glossary of key terms
Can be used alongside school curriculum and as a homeschool resource
After working as spies to aid the Colonies and delivering a message to General George Washington himself, twins Ambrose and John Clark find themselves volunteering for another mission to help the newly forming United States. This time, the boys step up to help transport much-needed gunpowder to the patriots, and end up in an even more dangerous situation—trying to man one of the first submarines. But the biggest challenge may be finding a way to free their imprisoned older brother.