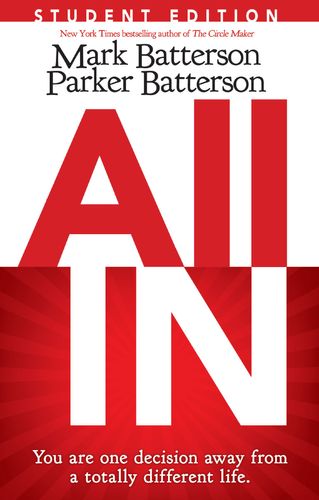 All In Student Edition
Release date: Mar 11, 2014
ISBN: 9780310744696
Format: Softcover
Halfway is no way to live.
Quit holding back. Quit holding out.
It's time to go all in and all out for God.
The good news is this: If you don't hold out on God, God won't hold out on you. If you give everything you have to follow Jesus, you'll receive amazing spiritual rewards. But this reality also comes with a deeper truth: Nothing belongs to you. Not even you.
In All In: Student Edition, Mark and Parker Batterson explore what going all in can mean for your life, sharing unique illustrations and unforgettable stories, as well as compelling accounts of biblical characters. Throughout, they demonstrate the amazing things that can happen when you surrender to the Lordship of Jesus Christ.
Mark Batterson writes: "When did we start believing that God wants to send us to safe places to do easy things? Jesus didn't die to keep us safe. He died to make us dangerous."