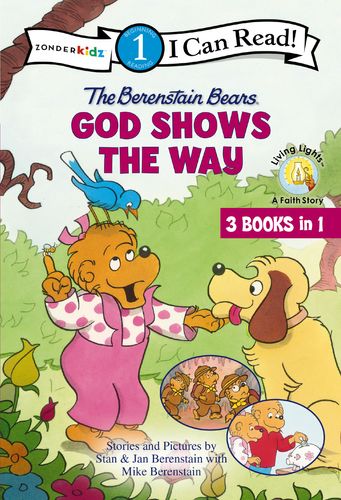 The Berenstain Bears God Shows the Way
Level 1
Release date: Aug 05, 2014
ISBN: 9780310742111
Format: Hardcover
Young readers will learn from the Berenstain Bears just how important it is to serve and love one another in The Berenstain Bears God Shows the Way. Written in Level One I Can Read™ standards, this three-book collection of titles from the Berenstain Bears Living Lights I Can Read series is sure to please young, emergent readers practicing early reading skills.
The Berenstain Bears God Shows the Way is perfect for:
Increasing early reading skills with simple vocabulary and age-appropriate themes
Reading out loud at home, in the classroom, or story time
Fans of the Berenstain Bears
The Berenstain Bears God Shows the Way is an addition to the Living Lights™ I Can Read series that:
Features the hand-drawn artwork of the Berenstain family
Continues in the much-loved footsteps of Stan and Jan Berenstain in this Berenstain Bears series of books
Is part of one of the bestselling children's book series ever created, with more than 250 books published and nearly 300 million copies sold to date
Included in this collection are The Berenstain Bears Faith Gets Us Through, The Berenstain Bears Have No Fear, God Is Near, and The Berenstain Bears Piggy Bank Blessings.