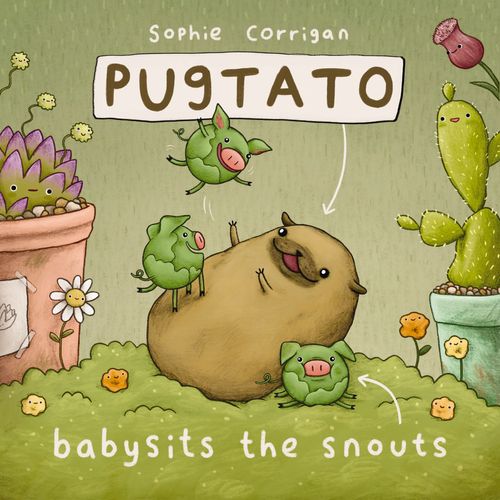 Pugtato Babysits the Snouts
Release date: Sep 07, 2021
ISBN: 9780310734116
Format: Hardcover
What do you get when you cross imaginative and loveable characters, enchanting and inspiring illustrations and a giggle-inducing story? ...Pugtato, a simple, good spud and a hilarious mashup of pet and vegetable characters by the inimitable illustrator Sophie Corrigan! Join Pugtato as he takes on the job of babysitting the Brussels Snouts.
Pugtato thinks babysitting will be easy … how much trouble can baby Brussels Snouts get into? But as the day unfolds, the rambunctious little Snouts decide to show Pugtato they are not little babies, and prove that size doesn't matter when it comes to having lots of fun with your good spuddies.
Pugtato Babysits the Snouts delivers:
A delightful, giggle-inducing, rhyming, read-aloud story perfect for kids ages 4-8
Imaginative, silly pet and vegetable mashups such as Pugtato, Tomatoad, Carrat, Cowbbage, Croccoli, Unicorn on the Cob and more!
A beautiful, eye-catching cover, rich with color and embossed texture
Young children will learn invaluable lessons from Pugtato about:
Friendship
Acceptance
Responsibility
Creativity
You'll also want to follow Pugtato's adventures in Pugtato, Let's Be Best Spuddies, Pugtato Finds a Thing, and Pugtato and Friends Audio Collection: 3 Books in 1.