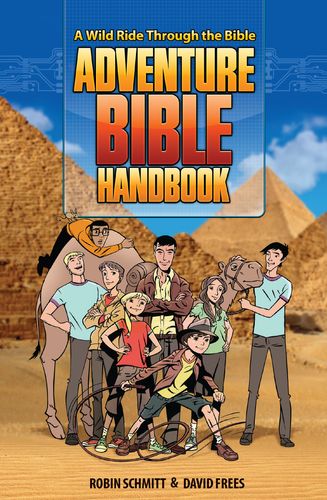 Adventure Bible Handbook
A Wild Ride Through the Bible
Release date: Oct 12, 2013
ISBN: 9780310725756
Format: Hardcover
Adventure Awaits!
When an archaeologist on an expedition in the Holy Land disappears, his four children are willing to try anything to find him. Dragging his assistant along, they join an offbeat tour group run by two zany guides whose mission, it turns out, is to lead kids from all over the world on a life-changing quest for truth. Soon the group is visiting ancient cities, exploring important geographical sites, and traveling back in time to experience biblical events firsthand—with the help of some Really Smart Phones (RSPs), a bunch of camels, jet skis, ATVs, hang gliders, and other wacky modes of transportation. Along the way, the children look for clues to their father's whereabouts and learn facts about ancient Bible times, the people, the culture, and witness important historical events, like the parting of the Red Sea, the building and filling of Noah's ark, and the crucifixion of Jesus. As they continue searching and their father is not to be found, the kids are tempted to give up. But finishing this crazy tour may just be the key to finding their father—and learning what life is all about!
The Adventure Bible Handbook is the newest addition to the Adventure Bible family of titles. The Adventure Bible is the #1 Bible for kids, packed with fun features that lead kids on an exciting journey through God's Word and help build on their relationship with God.
Visit www.AdventureBible.com for games and activities.