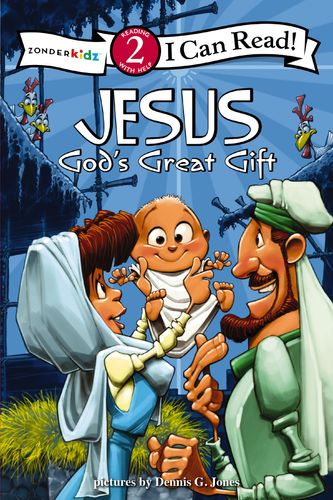 Jesus, God's Great Gift
Biblical Values, Level 2
Release date: Sep 26, 2010
ISBN: 9780310718819
Format: Softcover
Young readers will begin reading short sentences and learning simple concepts in this Level Two I Can Read book. Children will learn about the Christmas story and why Jesus's birth was so important.
Jesus, God's Great Gift is perfect for:
Early readers ages 4-8, including children in Pre-K through third grade
Teaching new readers how to sound out words and use context clues
Sparking conversations about the real meaning of Christmas and why Jesus had to come to earth
Baby Jesus was born in a barn. But people knew he was special right away because of the star shining overhead. What would Jesus grow up to be?
Jesus, God's Great Gift:
Features the vibrant and engaging artwork of Dennis Jones, illustrator of The Read with Me Bible
Is a perfect Christmas and holiday gift for boys and girls, nieces and nephews, and grandchildren
Makes the Christmas story easy to understand, in words young children can read themselves
If you enjoy Jesus, God's Great Gift, be sure to also check out the other I Can Read Biblical Values Level 2 titles, including Jesus, God's Only Son; Adam and Eve, God's First People; and Noah and God's Great Promise.