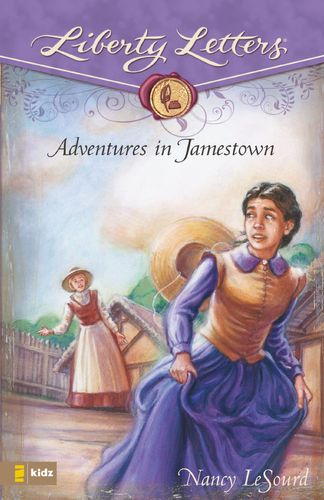 Adventures in Jamestown
Release date: Aug 25, 2008
ISBN: 9780310713920
Format: Softcover
In this historical fiction book by former educator Nancy Lesourd, young readers can experience American history through the letters of two girls in the 1600s: Abigail, who encounters Pocahontas while struggling to survive in the Jamestown colony, and her friend Elizabeth in England, who finds herself trapped in a society that refuses to acknowledge her intelligence or her dreams. Filled with period-accurate information, this book brings history to life and is also perfect for classrooms or homeschool use.
Within this novel in Liberty Letters series, late-elementary and middle school readers can explore the fictionalized story of two girls who find themselves in the middle of world-shaping events.
After enduring a dangerous voyage to the New World, Abigail discovers her fight for survival in Jamestown has only begun. Though starving and alone, she struggles to trust the Native princess called Pocahontas … and soon wonders if the real enemy may live inside her own heart. While back in London, England, her friend Elizabeth yearns for adventure, but society's conventions threaten to crush her dreams. As the girls face their deepest fears, they discover how their choices can change a nation's---and a young woman's—destiny.
While reading Adventures in Jamestown, readers 8-12 will also encounter:
Period-accurate historical details that help bring history to life in an entertaining and educational way
An exploration of the challenges and barriers women faced in that time period, including tests to their faith
A chance to think through how they may have reacted in these important times … and how they can act today as history continues to unfold around them.
Adventures in Jamestown is:
an ideal addition to homeschool or classroom history curriculums
perfect for any young woman interested in history or what they can do to shape our world
a great gift for birthdays or holidays that will also empower and inspire the young girl in your life
And if you enjoyed Adventures in Jamestown, don't forget to check out the other books in the Liberty Letters series: Escape on the Underground Railroad; Secrets of Civil War Spies; and Attack at Pearl Harbor