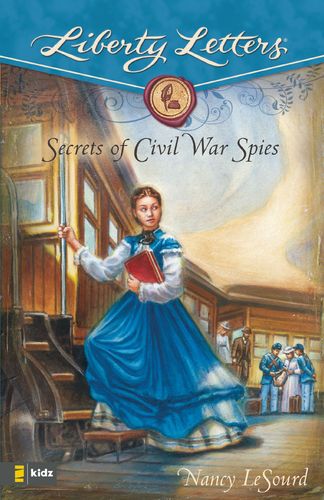 Secrets of Civil War Spies
Release date: Aug 25, 2008
ISBN: 9780310713906
Format: Softcover
In this historical fiction book by former educator Nancy Lesourd, young readers can experience American history through the letters of two girls witnessing the Civil War firsthand: Molly, who joins a spy ring against the Confederacy in Richmond supported by her Union-loyal aunt; and Emma, who disguised herself as a boy to help the Yankee cause, and who is based on the real-life Sarah Emma Edmunds. Filled with period-accurate information, this book brings history to life and is also perfect for classrooms or homeschool use.
Within this novel in Liberty Letters series, late-elementary and middle school readers can explore the fictionalized story of two girls who find themselves in the middle of world-shaping events.
Desperate to help the Union, Emma dresses herself as a boy and enlists as a Yankee soldier, and is soon fighting with her regiment on Virginia battlefields and spying for the Union. While in Richmond, her friend Molly discovers a spy ring against the Confederacy and finds herself aiding their cause. While the war tears the nation apart, both girls must find a way to keep their secrets safe and decide whether they will risk everything--including their lives and freedom--for what they believe.
While reading Secrets of Civil War Spies, readers 8-12 will also encounter:
Period-accurate historical details that help bring history to life in an entertaining and educational way—including information on the actual Sarah Emma Edmunds
An exploration of the challenges and barriers women faced in that time period, including tests to their beliefs
A chance to think through how they may have reacted in these important times … and how they can act today as history continues to unfold around them.
Secrets of Civil War Spies is:
an ideal addition to homeschool or classroom history curriculums
perfect for any young woman interested in history or what they can do to shape our world today based on the important lessons of the past
a great gift for birthdays or holidays that will also empower and inspire the young girl in your life
And if you enjoyed Secrets of Civil War Spies, don't forget to check out the other books in the Liberty Letters series: Adventures in Jamestown, Escape on the Underground Railroad, and Attack at Pearl Harbor