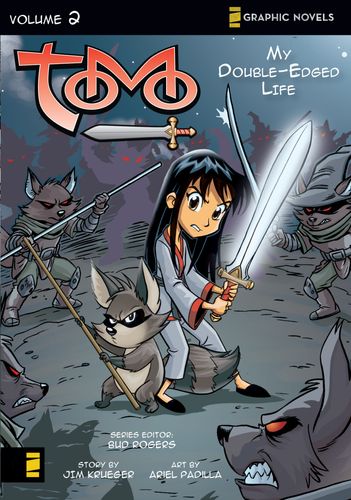 My Double-Edged Life
Release date: Jul 29, 2007
ISBN: 9780310713012
Format: Softcover
Hana may have settled into her new life in America, but in this second volume of the Tomo graphic novel series, she must face challenges at school and at home when her two rivals seek to frame her for cheating and fox warriors arrive to find the sword she is tasked to keep hidden. And once her grandfather reveals more of the prophecy linked to the sword, Hana learns she must train in the dojo like never before.
Things have stabilized since her move from Japan and the attack on her grandfather's dojo in San Francisco, and thirteen-year-old Hana is enjoying time with her new friend Brittany, martial arts training, and getting to know her grandfather's quirky raccoon "pet," Tomo. But little does she know what lies ahead. Brittany's old friends are still angry at Hana for "stealing" Brittany away, and have plans to get their revenge by framing Hana as a cheater. At the same time, fox warriors from the fantastical world of Argon Falls have returned through the portal and are intent on getting the spirit sword for their master, no matter the cost.
And when her grandfather reveals Hana's role in a prophecy that links Argon Falls and Earth, and one of Tomo's secrets is revealed, Hana realizes her problems may have just begun.
My Double-Edged Life:
is perfect for readers 10 and up
was created by veteran animators from Disney Animation Studios
features diverse characters, including an Asian main character
contains kid-friendly, anime-like illustrations and a relatable plot
will appeal to fans of Studio Ghibli, Jen Wang, and graphic novels