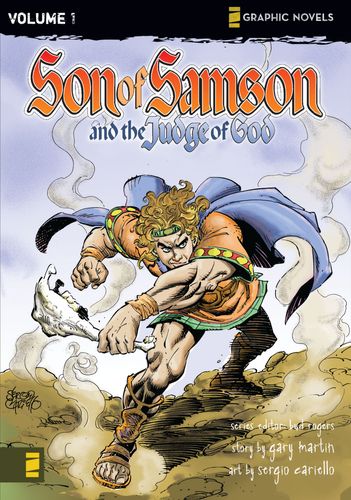 The Judge of God
Release date: Jul 29, 2007
ISBN: 9780310712794
Format: Softcover
A graphic novel of epic proportions … In this first book of the Son of Samson series, Branan has inherited his father's strength, but he has no idea why. In hopes of understanding God's plan, he travels back to Israel to trace the deeds of the father he never knew—and finds himself in the crosshairs of a Philistine captain in the process.
Growing up among the Philistines, Branan was always different—a little bigger, and much stronger, than his friends, and the only kid who worshiped God instead of Dagon. And he carried a big secret: his father was Samson, the man everyone in his country feared. Desperate to understand why God gave him his father's gifts, Bran travels to Israel … and discovers the Philistines are still terrorizing the people.
While traveling to the cities where his father welded a jawbone and carried a massive gate, Bran also comes to the attention of Lord Sidon, who refuses to let another Hebrew warrior threaten Philistine rule. And Bran is determined to do what his father never could: use his strength for good.
The Judge of God:
combines biblically accurate information about Samson and ancient Israel with a story arc that follows a boy looking to undo his father's wrongs
is great for readers 8 and up
contains kid-friendly clean humor and action
will appeal to fans of The Action Bible, comic books, and graphic novels
is perfect for homeschool, church libraries, and kids' Bible studies as a fun-to-read supplementary resource