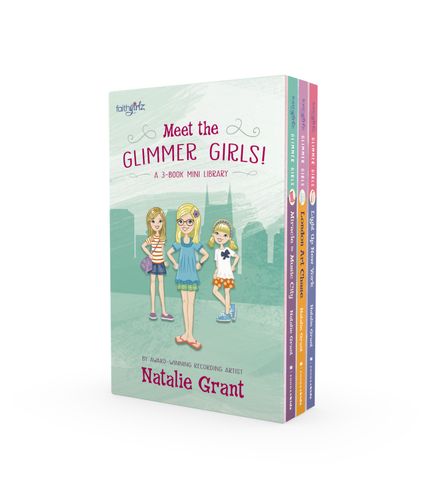 Meet the Glimmer Girls Box Set
Release date: Oct 23, 2018
ISBN: 9780310631422
Format: Softcover Set
From Grammy-award winning musical artist Natalie Grant comes the Glimmer Girls! You'll meet 10-year-old twins Mia and Maddie and their sidekick little sister, LuLu, as they embark on international adventure and mischief thanks to their famous mom who travels all over the world singing beautiful songs. This collection includes the first three books in the series—a perfect gift for the Faithgirlz in your life!
In Miracle in Music City, join the Glimmer Girls as they embark on an adventure in their hometown of Nashville, Tennessee! There's a bit of mystery to solve for Mia, Maddie, Lulu, and the nanny Miss Julie too, when the main item in a benefit auction goes missing.
In Light Up New York, travel with the Glimmer Girls to the Big Apple! Gloria has been asked to perform a concert in Times Square and the whole family joins her. Miss Julia immediately starts planning a sightseeing trip for the sisters that will be better than all the rest, but plans never turn out exactly as they imagine when the Glimmer girls are involved. So, what happens when sibling rivalry, random acts of kindness, and a little mystery all meet up at some of the most famous sights in New York City?
In London Art Chase, join the Glimmer Girls on an international adventure as they travel to London to watch their mom––famous singer Gloria Glimmer––perform. But on a day trip to the National Gallery, Maddie witnesses what she believes to be an art theft and takes her sisters and their beloved and wacky nanny Miss Julia, on a wild and crazy adventure as they follow the supposed thief to his lair. Will the Glimmer Girls save the day? And will Maddie find what makes her shine?
Look for A Dolphin Wish, another adventure-filled book in the Glimmer Girls series as well as the companion devotional from Natalie Grant, Glimmer and Shine: 365 Devotions to Inspire.