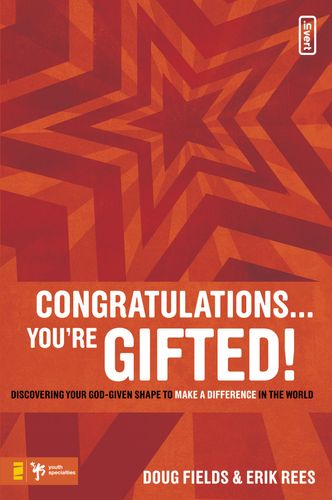 Congratulations … You're Gifted!
Discovering Your God-Given Shape to Make a Difference in the World
Release date: May 11, 2008
ISBN: 9780310277255
Format: Softcover
Are you confused about who you are or where you're headed? Does your life seem cluttered and chaotic? Do you wish you understood God's plan and purpose for your life? Do you want to uncover your God-given strengths? If you said yes to any of these questions, you've come to the right book. The first step is to know who you are. Remember, you're a child of God—created by him with your own unique heart, abilities, personality, and spiritual gifts. God brought all those elements together in you so that you could serve him and the world in your own unique way. Inside the pages of this book, you'll discover the place where your God-given passions and strengths intersect, and you'll find the way you're designed to serve. With interactive exercises and questions for you to answer, you'll learn more about your: • Spiritual Gifts • Heart • Abilities • Personality • Experiences Understanding each of these areas of your life, you'll begin to see who you are and how you're designed to serve. You'll stop serving because that's what you're "supposed" to do, and start serving from the depths of your heart and soul because it's what you were created to do.