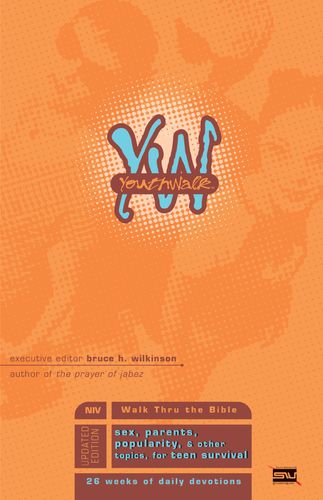 Youthwalk
Sex, Parents, Popularity, and Other Topics for Teen Survival
Release date: Dec 25, 2002
ISBN: 9780310246893
Format: Softcover
Navigating today's world is hard—not only as a teenager, but as a Christian. Youthwalk tackles topics like insecurity, intolerance, peer pressure, racism, and depression, connecting biblical truth to real-life issues. And with six months of devotions and supplemental information on each subject, you can explore God's truth on the issues you face and put that knowledge to work in your life and the world around you.
Every day, we face issues that are hard to deal with—from feeling unsecure due to recent school shootings, encountering prejudice in our community, dealing with depression or loneliness, and more. It's easy to feel overwhelmed or even powerless. But there is a way forward. In this edition of Youthwalk, twenty-six issues are explored and broken down. Each topic begins with an introductory page, followed by five devotional readings—one for each weekday—that breaks down the subject in different ways. And each devotion includes:
an opening reading to help you think about the topic
a Bible reference that points to what the Bible says about it
a breakdown of what that passage means today
and an application to your life.
Each day's reading is short and easy to work into your routine, helping you find answers to your most-pressing questions and problems.
Youthwalk:
can be used as a traditional devotional or used as an encouraging reference on certain topics when you need guidance and comfort
is great for teens 13 to 18
has informational pages—such as little-known facts, real-life stories, and attributes of God—that work alongside each weeks' topic to provide more detail and application to the individual readings