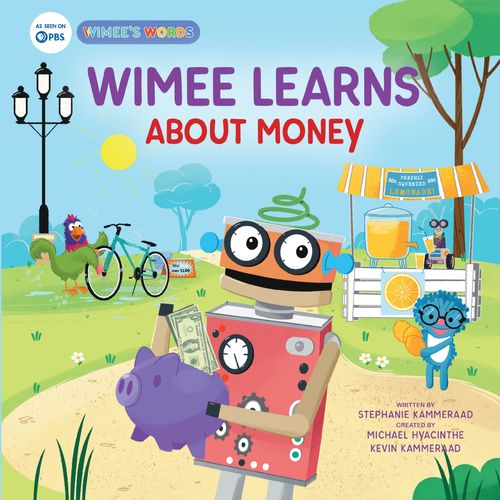 Wimee Learns About Money
Release date: Jan 02, 2024
ISBN: 9780310153610
Format: Hardcover
Join your favorite robot Wimee from the PBS show Wimee's Words as he learns about what money is and how it works. Readers will have fun as they discover earning, spending, saving, giving, and other money facts.
Wimee is excited! He has received some money from his grandmother as a gift. But he isn't sure what to do with it. Join Wimee and his friends Moby and Siblee in the park, as they get a lesson in money facts from Mr. Bill. Then follow along as Wimee puts a plan together for how he can use his money.
Wimee Learns About Money includes:
Wimee's friends featured on the

Wimee's Words

television show

Bright, engaging illustrations that bring Wimee's imaginative world to life

A note to parents and educators with ideas on how to use the book to further learning

An early introduction to financial concepts like how to get money (invest, receive a gift, or earn), the purpose of money (to buy things), and what to do with money (buy things now, save it to buy things later, or use it to help others).
Wimee's Words is an interactive mixed media show for preschoolers that inspires kids to learn through imagination, vocabulary building, and storytelling through puppetry, music, wordplay, and technology. Watch Wimee on your local PBS affiliate!