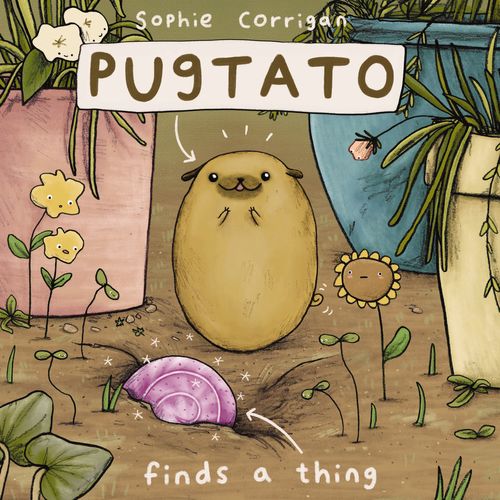 Pugtato Finds a Thing
Release date: Mar 07, 2023
ISBN: 9780310140962
Format: Softcover
What do you get when you cross imaginative and loveable characters, enchanting illustrations, and a giggle-inducing story? Pugtato and other hilarious mashups of pet and vegetable characters by the inimitable illustrator Sophie Corrigan! Join Pugtato and his cute and quirky "spuddies" in this heartwarming picture book—now in paperback—that celebrates the power of friendship, compassion, and believing in your own unique gifts.
When Pugtato's simple, quiet life is disrupted after he digs up a strange object in his garden, he enlists his best spuddies to help figure out just what it is (they are more clever than he is, after all). Tweetroot is certain it's a new egg for her nest. Tomatoad is quite sure it's a toy just for him. And Purrsnip simply won't stop scratching it! Luckily, Pugtato has another very special spuddy to ask …
Pugtato Finds a Thing delivers:
A delightful, giggle-inducing, rhyming, read-aloud story perfect for readers ages 4-8
Imaginative, silly pet and vegetable mashups such as Pugtato, Tomatoad, Carrat, Cowbbage, Croccoli, Unicorn on the Cob, and more!
Young children will learn invaluable lessons from Pugtato about:

Friendship
Compassion
Acceptance
Creativity
You'll also want to follow Pugtato's adventures in Pugtato Babysits the Snouts; Pugtato, Let's Be Best Spuddies; and?Pugtato and Friends Audio Collection: 3 Books in 1.