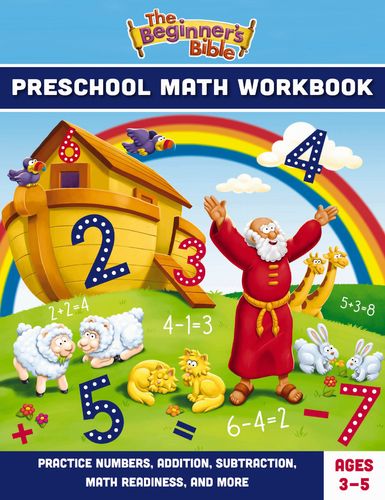 The Beginner's Bible Preschool Math Workbook
Practice Numbers, Addition, Subtraction, Math Readiness, and More
Release date: May 31, 2022
ISBN: 9780310138952
Format: Softcover
The Beginner's Bible Preschool Math Workbook will encourage young children ages 3 to 5 to grow in their faith and have fun while learning their numbers and number concepts, practicing fine motor skills, and more.
A strong foundation in number sense directly impacts a child's success in math throughout their school career. The Beginner's Bible Preschool Math Workbook teaches number sense to your preschooler with a wide variety of fun educational activities!
Parents will appreciate how The Beginner's Preschool Math Workbook:
Provides preschool level practice of numbers and basic number sense
Helps develop creativity and problem-solving skills
Can be taken wherever you go—to church, to a friend's, or on the road
Features activities designed to help children learn preschool math skills while also learning of God's love for them
Children ages 3 to 5 will enjoy nearly 200 pages of educational activities:
Writing numbers and number words
Counting activities
problem-solving
comparisons and simple measurement
Activities that promote number sense such as connect-the-dots, matching games, color-by-number, and more
The simple, pencil-and-paper activities in The Beginner's Bible Preschool Math Workbook incorporate classic Bible stories and characters such as Adam and Eve, Noah's Ark, Moses, David and Goliath, the life of Jesus, and more. Get ready for your children to enjoy this interactive, Bible-story based approach to learning numbers!